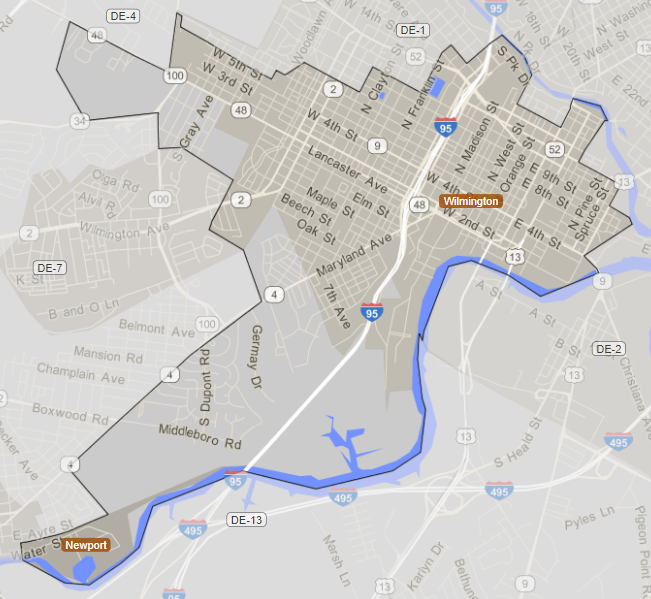 The 3rd Senate District (SD3) is the most densely populated and diverse in Delaware. The district encompasses over half the city of Wilmington and a majority of its population: 40,874 people living in 15,926 households on just 6 square miles of land. On average, one square mile in SD3 is home to over 8,000 people, or twice the density of the neighboring 1st Senate District in north Wilmington. Our district is more diverse than most of Delaware, with over twice as many Black and Hispanic residents per capita than the rest of the state. SD3 is also quite young: over one-quarter of residents are minors and over half are under 35.
The density, diversity, and youth of SD3 are our greatest strengths. We have vast amounts of talent and potential. Ambitious entrepreneurs are starting small businesses, faith centers are growing, and community groups are partnering with nonprofits to keep our neighborhoods clean and provide educational programs for our children.
But our neighborhoods are also facing many serious long-term challenges. Jobs are hard to come by for most residents. The unemployment rate stands at 9.9% while nearly 35% of residents are no longer in the workforce. For those who are working, over half of households earn less than $35k per year, far below the state average. Over 10% of residents are on some form of government assistance. Single mothers represent over over half the heads of households and household incomes are down, as are property values.
These issues did not arise overnight. For decades, the deck has been stacked against many residents from birth and into adulthood. Early childhood education is critical to developing young minds, but Delaware is falling short of its commitment to support families through these early years with adequate family leave and affordable, quality childcare. When kids impacted by these deficits graduate to public schools, they are more likely to fall behind their peers, especially for children living in the Christina School District:
"Its standardized test scores are the lowest in the area — in some of its Wilmington schools, proficiency rates languish in the single digits. Christina's graduation rate has been declining over the past few years; the Class of 2016 weighed in at a worrisome 69.4 percent."
How can we expect our young men and women to thrive when we erect invisible barriers to their success? Or if their neighborhoods often lack well-resourced community centers and safe access to enrichment activities? How can we expect them to concentrate in class when a struggling home environment leaves them hungry? When so many are unable to graduate from high school, and many more who do cannot afford to get to and through college, prospects in the labor market narrow. Household incomes continue to lag behind, allowing this cycle to continue.
We need strong leadership in Dover committed to making wise choices: choices that take into account the diverse needs of this district and the barriers to its success. We need strong leadership to ensure that everyone is represented, no matter where they live. With strong leadership in Dover, we can all achieve a better future, working together to ensure that our neighborhoods thrive. We must make the choice now, at this critical moment, to elect leaders who are committed not just to speaking for others, but to elevating voices and empowering the actions of residents, to listening and creating policies that put people first.